I didn't write a post yesterday because I was
totally absorbed
by a book that I found because of my Day 3 gratitude.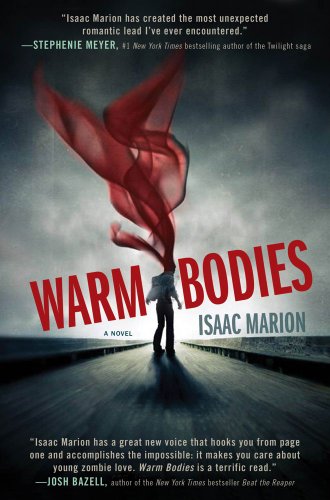 Can I just say... WOW.
Warm Bodies
is a debut novel by Isaac Marion which, fortunate man, was not only optioned for a movie but actually previewed at the
Breaking Dawn Part 2
screening I saw on Sunday. The preview looked fun (
see the trailer here
), but the book is a lot more. (
Isaac Marion has a blog
, rather more sporadic than this one, for anyone who wants to connect with him.)
The idea behind
Warm Bodies
is kind of Zombie Romeo meets Post-Apocalyptic Juliet, but the book reaches deeper than that, into the path to apocalypse, the difference between a zombie and a human, the nature of hope, and the elements of a high-quality life. Don't read this book because you want to read a zombie novel -- although Marion offers a witty, funny, compassionate first-person perspective on zombie existence. Read it because it's a damn good read.
I also
finally
finished
Lytton Strachey
by Michael Holroyd. Lytton Strachey was a contemporary and close friend of Virginia Woolf's, a fellow writer and, in fact, was even momentarily engaged to her when she was still Virginia Stephen. He was also a homosexual who was 13 when Oscar Wilde was convicted and sentenced to two years' hard labor for a homosexual love affair. He is famous for his dramatic and subversive biographies of the lions of the Victorian age, and for his rather Byzantine personal life. This 700 page tome took me a
looooong
time to finish, so I'm grateful for Holroyd's insight into Strachey's life and character, and also that I can recommend a movie,
Carrington
, to anyone who is interested in the gossipy arty bits and willing to pass on all the thoughtful analysis.
So my gratitude for today is my girl, and her girlfriends. Those zany, goofy, silly girls spent a long afternoon at my house today, and they wrestled in the backyard, did homework together, dressed up and put on crazy makeup, pretended to be zombies in the front yard, baked cookies and ate them, played "Call Me Maybe" at top volume (but only once, thank goodness), and generally behaved like girls having a wonderful time. They never beat up on any of the little brothers who couldn't resist their crazy energy. When they left, my girl hugged me and thanked me for their fun day, cleaned up nicely, ate her dinner, and passed out in bed 45 minutes earlier than usual.
I like making my kids happy. Sometimes they surprise me by making it easy to please them. I am grateful.