My favorite fashion magazines are
InStyle
,
People StyleWatch
, and
Lucky
magazine. And I can't say I like them very much. They tend to feature girls almost half my age wearing four-inch heels and mini skirts, with fur vests or dresses that cost $1,200. But they are useful for seeing what shapes and color schemes are trending, so I still pick them up occasionally.
I'm actually a "charter subscriber" to
Lucky
, because I subscribed in the first couple of months that magazine was published, and haven't let my subscription lapse in twelve years. (Yikes! I
just
looked that up. Time to cancel.) Back when the magazine first came out, it featured a couple of very trendy, creative looks, then recreated each one with items found in a wide range of sources and price points. Everything from Old Navy and Target to high-end labels were represented in these looks. It was the democratic nature of the magazine that billed itself as "The magazine about shopping" (as opposed to "the magazine about clothes, or advertising, or whatever
Vogue
is supposed to be about") that appealed to me and kept me renewing my subscription for so long.
Fast forward twelve years and here I am, a twenty-two year old girl in a forty year old woman's minivan lifestyle;
Lucky
has aged a lot worse, from creating looks that anyone can adapt for themselves to showcasing $1,500 black slacks and four-inch-long miniskirts from Forever 21. These are not styles a forty-year-old mom of three can wear to the playground.
I have yet to find a magazine that offers style advice -- and
only
style advice -- for a woman with an active, not athletic, lifestyle. I don't want a magazine like
Cookie
(now defunct), which claimed to be for hip moms (I'm not sure how hip I am, but I'm willing to try... sort of) and interspersed celebrity parenting advice with Ralph Lauren tie-and-jacket ensembles for toddlers and pencil skirts, rather than minis, for the moms. Uh, no.
I may drive a minivan, but believe it or not, I am actually interested in looking stylish
in my own right
. My kids are cute, but I'm not throwing in the towel on myself. When I set out to learn about new trends I don't want to accidentally run into an article that reminds me that the kids are watching too much TV, that the white bread I put in their lunchboxes is some day going to
kill
them, and that I didn't put on their sunscreen... again. No, I want to see if bootcut jeans are back, find out what the season's color palette is, and figure out how to repurpose the stuff in my closet so that it looks all brand new.
Since I have yet to find a magazine that will give me that information without also including a recipe for chicken broccoli casserole, I've had to branch out a bit. There are a few great fashion resources on the internet that I've found useful.
jseverydayfashion.com
J's Everyday Fashion
updates daily and is budget-aware. J is on Facebook as well as at her own site, and is generous with answering questions on her FB Wall. She encourages followers to post pictures of their own outfits on her Facebook page and offers suggestions for how to accessorize for specific situations. She has a web-show in which she gives fashion advice for real women,
J's Everyday Fashion
(3 episodes recorded as of this date); her advice isn't just buy this or that, but here's how to remix your wardrobe to stretch it in ways you hadn't thought of before. Episode 2 and Episode 3 (yet to be aired) feature... wait for it... moms who want to look great even when their kids are around.
The one thing I don't totally love about J's Everyday Fashion is that since she is a very trim size 4, what looks good on her (skinny pants and short shorts) aren't necessarily going to be great for me, and to a certain extent I have trouble compensating for that. But I love the way she puts colors together and her suggestions for how to duplicate or adapt looks found in catalogs and magazines. I appreciate that she periodically takes time out to share how she creates a shopping list for clothing and how she makes decisions about how she manages her clothing budget -- $100-$200 per month (J is newly single and child-free).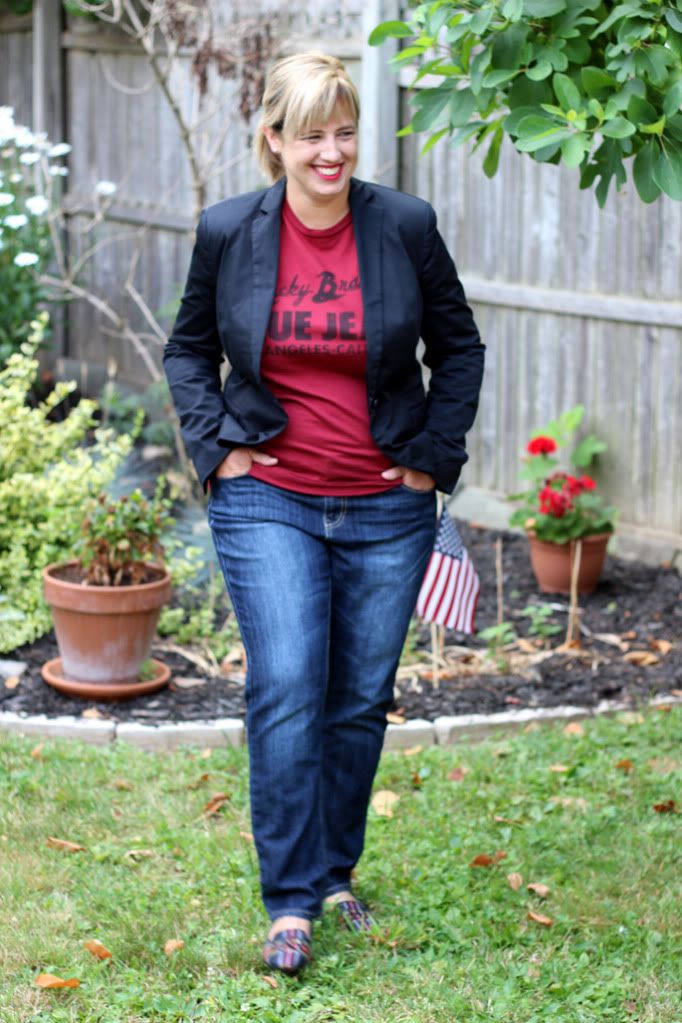 fashionatforty.blogspot.com
Fashion At Forty
is a cool fashion blog maintained by a real woman with actual curves. Niki seems very sweet. Her outfits are sometimes a little trendy for my taste (I really don't like the high-low trend), but that's occasional; she tends towards preppy, for the most part. She's also pretty up front about her own reservations about what works and what doesn't. Her blog is about how she makes her fashion fit her life, and so her choices are budget conscious; unlike J, in addition to lots of retail options she shops at consignment shops, eBay, and Etsy to find higher-end and custom pieces without spending too much money. Niki is a working wife with no children, but her outfits are wearable even for those of us who stay home, and she is on-trend with color combinations and accessorizing. Like J, she's very responsive to questions and comments. She also has a blogroll (J doesn't) that includes more fashion resources. I have to admit I've only skimmed a few of them because I haven't found them to be as comprehensive as Fashion at Forty, and I really like Niki's tone.
I have to also credit Niki with a book recommendation.
Overdressed: The Shockingly High Cost of Cheap Fashion
will be my next book review, and most likely will change the way I approach my wardrobe as well. But that's a different post.
My other favorite sources for fashion inspiration are
Pinterest
and Polyvore. I follow several fashion-heavy pinners on Pinterest. I found
Outfit 31
through her blog, which she doesn't appear to be updating anymore. She still pins outfits, though, and her outfits are
totally
playground ready. Note that though a lot of her repinned outfits include high heel pumps, there's no reason they have to be duplicated with the pumps, a cute wedge or loafer would do just as well for the vast majority of the outfits shown. I also use the search function on Pinterest to figure out what to do with what's already in my own closet -- for example, I searched on "gray blazer" to get some ideas on how to mix up the underworn gray blazer in my closet and found images that dress it down in ways I might not have thought up when just staring glass-eyed in my closet.
I'd like to mention that my husband's cousin had the brilliant idea of organizing her fashion pinboards by color (using, very cleverly, lines from songs for board titles) and I sure wish I had thought to do that before I accumulated 250 pins to the "My Style" board... live and learn.
Polyvore
is a little bit more labor intensive than flipping through a fashion magazine, but just as informative and a lot more adaptable. It's basically a Facebook for fashion with a Q&A section for people with fashion dilemmas. I find it difficult to use for my own purposes, but most of the best images on Pinterest come from there, so if you've got the inclination to work through it (and please, share with me if you do), then it is a great shopping resource. One of the blogs I have listed in my blogroll,
Outfits by Stacy Gustin
, I found on Polyvore. The images are attractive, but she's light on text, and since I'm a text kind of girl I'm going to find it a little less compelling than chattier bloggers. Stacy Gustin is a mom of three, however, and the outfits generally seem wearable, so it's worth checking out.
If you Google "mom fashion blog" a decent list of blogs will pop up and you can peruse those at your leisure. I've checked out a few and ruled them out for my own use, primarily because of the cost of the items pictured, or because the moms are so posh that I rarely find their articles useful. Also, I'm happy with my current resources. There is only so much time available for hanging out online clicking through outfits. But fashion is personal. Maybe you've got a runway ready figure, or a job where heels are daily requirements, or a way better night life than I have. Go crazy! Share what you find! And most of all, have fun dressing
yourself
, not just your kids, because, let's face it... they got their good looks from you.